"Being Sensitive" means that you care  and are genuinely concerned, and that's a beautiful trait to have. However, to have a Sensitive Skin is a game changer altogether. Because it's your skin and you wear it everyday, so all it requires is a little bit of extra love and care just like what a sensitive person would do for another. And, we, at Beauty Hooked can help you, not with your sensitivity, but how to deal with sensitive skin. So, stay hooked!
WHAT IS SENSITIVE SKIN
Sensitive skin is blend of dry patches and red blemishes with irritation, tightness and a stinging sensation.
WHAT MAKES THE SKIN SENSITIVE
EXTERNAL SOURCE
Sensitive skin easily gets inflammation which is caused by a hyper-reaction due to an external source. It affects all parts of the body but the face is most affected due to exposure. The external sources damage the skin barrier. However, if the sources are monitored and be removed, the damage can be restored. Some external sources are Cold, heat changes between temperatures like sudden drop or rise, pollution, air dryness, heat in enclosure or air conditioning
INHERITANCE 
Sensitive skin can be due to inheritance
WRONG SKIN CARE PRODUCT
Skin irritant ingredients in the products may cause the skin to be more irritated. Always select the products with label "For Sensitive Skin"
LIFESTYLE
If your lifestyle is not healthy and stress-free, it also contributes to having sensitive skin. E.g. lack of sleep, poor diet, stress, lack of essential nutrients.
HORMONES
Skin often becomes sensitive at or during puberty, menopause and during pregnancy due to an imbalance of hormones.
SYMPTOMS OF SENSITIVE SKIN
Sensitive skin is prone to the following signs and symptoms.
Blotchy, pink/red skin patches
Itchy skin Broken veins on the nose and cheeks
Tight feeling skin, turning to red when exposed to sun
Dry, flaky, tight or sore skin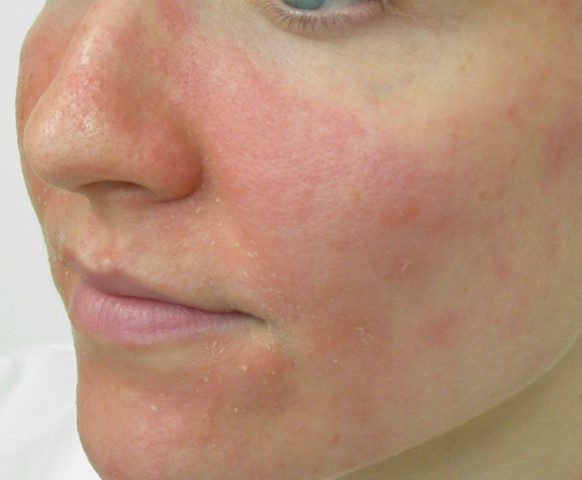 PROBLEMS OF SENSITIVE SKIN
Dryness
Itching
Irritation
Eczema
Psoriasis
Rosacea
Dermatitis
TREATMENT FOR SENSITIVE SKIN
Sensitive skin is hard to manage when you don't know what's causing it. The most common mistake that people sensitive skin make is that, they do not take the time out to find out the reasons behind their skin sensitivity. So, we end up buying unnecessary products, thinking  that they would be solution to our skin problem, which they actually aren't. So, the key to balance out the natural protective barriers by reinvigorating our inner mechanism with DIY's and products with formulations that do not contain components that flare up our skin at the slightest stimulation, So always look for ingredients that can calm the skin, as well as restore and soothe it.
 
SKIN CARE ROUTINE
The essential routine i.e daily routine for Sensitive Skin step by step is as follows.
MORNING
Cleanser
Toner
Moisturizer
Sunscreen
EVENING
Cleanser
Toner
Moisturizer
Eye Cream
ADVANCED ROUTINE
The layering of skin products depends on the concerns of your skin like dry patches, breakouts and redness. It is either a preventive routine or a treatment routine, and/or a blend of both. But the key is to layer the product in the right order with the right product for your skin.
MORNING
Cleanser (Loreal Fine Flowers Milk)
Face Wash (Loreal Skin Perfection Soothing Gel Cream Wash)
Toner (Loreal Paris Skin Perfect Velvety Soft Toner)
Exfoliant (St Ives Sensitive Skin Apricot Scrub Gentle)
Mask ( Freeman Banana Oat Instant Smoothing Mask)
Serum (as per skin need e,g skin soothing, anti aging, whitening)
Moisturizer (Neutrogena Oil Free for Sensitive Skin Moisturizer)
Eye Cream (Loreal Revitalift Eye Cream)
Optional: Targeted solution (acne, pimples, blemishes etc)
Sunscreen (Neutrogena Sensitive Skin Sun Screen)
EVENING
Cleanser
Toner
Exfoliate
Serum
Moisturizer
Optional: Targeted solution, as per need, apply after your moisturizer or eye cream
RECOMMENDED MAKEUP FOR SENSITIVE SKIN
Primer: Silicone based primer (Maybelline baby skin)
Concealer: Liquid Concealer (Maybelline age rewind)
Foundation: Liquid Foundation (Massarat Misbah Silk, Maybelline Fit Me)
Blush on: Powder(Massarat Misbah Blusher)
Contour: Powder Contours (Maybelline Master Sculpt)
Highlighter: Powder Highlighter (Becca, e.l.f  Loose Powder (Luscious Loose Sparkle)
Pro Tip: Always keep blotting paper with you for your oily parts of the face. Tissue take off the makeup and leaves lint on the face. Blotting papers absorb oil and sweat without taking off your makeup
Comment below and let us know if you have further queries about Sensitive skin. Let our expertise to guide you directly.
*If you're not sure about the type of your skin and products suitable for you, no need to worry when you are hooked to Beauty Hooked. Book an appointment with Beauty Hooked Beauty Experts for 1:1 consultation and enlist the product perfect for you according to your type of skin
0