Are you having a bad day? Is your skin too oily to control? People with oily skin are prone to acne & breakouts due to the oils in the skin, which blend with bacteria, resulting in skin troubles which also leads to blocked pores and clogged hair follicles. The most common causes of oily skin are makeup that clogs the pores, especially when when it's not removed properly. But fear now, if you're hooked to Beauty Hooked, our Beauty Experts have listed down a range of products to combat oily skin.
OILY SKIN
Oily skin means enlarged oil glands with high levels of sebum.
SYMPTOMS OF OILY SKIN
Enlarged pores
Dull or shiny, thick complexion
Blackheads, pimples, or other blemishes
WHAT CAUSES OILY SKIN
Have you ever wondered why you have oily skin? Well, I'm sure you have. You can blame two essential factors: hormones and genetics.
OILY SKIN HAS BENEFITS TOO
Oily skinned people are also blessed, in a way, which other people wish for. It ages at a slower pace due to extra moisture and keeps the skin hydrated, resulting in less prone to wrinkles. Now how about that?!
PROBLEMS WITH OILY SKIN
Oily skin is more prone to breeding bacteria as oil is a major cause of breeding, and bacteria leads to breakouts. Wash your skin three times a day if possible. The more the oil, the more breeding ground for blemishes, acne, pimples, black heads & whiteheads.
PRODUCT SELECTION FOR OILY SKIN
CLEANSING GEL
Use a gel or foam sulfate free cleanser that will cut the oil but don't dry the skin out with detergents
TONER
Look for an alcohol-free toner. Ingredients that work best for oily skin are
Sodium PCA (a humectant that holds water to the skin)
Geranium (an essential oil to cut oil)
Witch hazel (a natural ingredient with an astringent effect without the drying effects).
OIL-FREE MOISTURIZER
Do you think that oily skin needs no moisturizer? Think again after reading this. The skin actually gets more dehydrated when it is oilier. So, choose an oil free moisturizer preferably with sodium PCA and glycerin as these ingredients help to retain moisture in the skin.
SUNSCREEN
 The perfect sunscreen for oily skin is silicone based. Oily skins girls have fear of using sunscreen because they think it makes their skin more oily. True. The wrong selection of formula will cause so. Also look for labels with zinc oxide as they leave a matte finish as well as its antibacterial properties leave your skin breakout free.
SERUM
The serum with ingredients such as alpha-hydroxy acids or beta-hydroxy acids tends to reduce the large pores and also brighten dull spots. The acne prone skin should look for serums with ingredients like salicylic acid and tea-tree oil to keep the skin clear. Retinol is good for oily skin because it helps your pores look smaller with continued use
CLAY MASK
Experts recommend to include clay mask once a week. It is advisable to not dry the mask so much before rinsing it off. It will dehydrate your skin.
YOUR SKIN CARE ROUTINE
The essential routine i.e daily routine for oily skin step by step is as follows.
MORNING
Cleanser
Toner
Moisturizer
Sunscreen
EVENING
Cleanser
Toner
Moisturizer
Eye Cream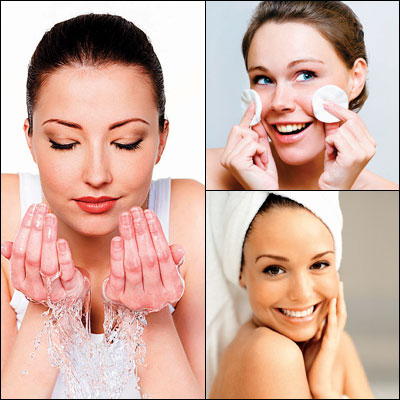 ADVANCED ROUTINE
The layering of skin products depends on the concerns of your skin like aging, large pores, clogged pores, breakouts, redness. It is either preventive routine or treatment routine or blends of both. But the key is to layer the product in the right order with the right product for your skin.
MORNING
Cleanser (Loreal Clay Purifying Gel)
Toner (Nivea Mattifying Toner)
Exfoliant (Garnier Pure Active Anti Excess Oil)
Mask ( Himalaya Herbals Purifying Neem Mask)
Serum (as per skin need e,g anti aging, whitening)
Moisturizer (Neutrogena Oil Free Moisturizer)
Eye Cream (Loreal Revitalift Eye Cream)
Optional: Targeted solution (acne, pimples, blemishes etc)
Sunscreen (Spectrablock by Stiefel)
EVENING
Cleanser
Toner
Exfoliant
Serum
Moisturizer
Optional: Targeted solution, as per need, apply after your moisturizer or eye cream
RECOMMENDED MAKEUP FOR OILY SKIN
Primer: Silicone based primer (Maybelline baby skin)
Concealer: Liquid or stick concealer (Maybelline age rewind, Rimmel Hide the blemish)
Foundation: Matte Foundation (Maybelline Matte + Poreless), Stick Foundation (Kryolan TV Stick) Mousse Foundation (Maybelline Dream Mousse)
Blush on: Powder(Massarat Misbah Blusher), Stick (Maybelline Master Glaze), Loose Powder(NYX Grinding Blush), Mousse (Maybelline Dream Mousse Blush)
Contour: Powder Contours (Maybelline Master Sculpt)
Highlighter: Powder Highlighter (Becca, e.l.f ), Stick Highlighter (Benefit WhatsApp) Loose Powder (Luscious Loose Sparkle)
Pro Tip: Always keep blotting paper with you. Tissue take off the makeup and leaves lints on the face. Blotting papers absorb oil and sweat without taking off your makeup
Comment below and let us know if you have further queries about oily skin and let our Beauty Experts guide you.
*If you're not sure about the type of your skin and products suitable for you, no need to worry when you are hooked to Beauty Hooked. Book an appointment with Beauty Consultant right here Beauty Consultancy for 1:1 consultation and enlist the product perfect for you according to your type of skin.
0