We bet you didn't even know there was a "right" way to wash your locks… for most of us it's probably shampoo, rinse, conditioner, rinse, done. Apparently, we've all been washing our hair the wrong way all this time… and there's a whole technique involved that ends up leaving your locks luscious, moisturize, and nourished.
At Beauty Hooked, we're always trying to scout new ways to perform beauty better. So we set on a quest to discover what this sorcery technique is to wash your hair the "right" way…
Why You NEED shampoo?
There are around 150,000 strands of hair on a typical head of various lengths, textures, shapes, and styles. This huge mass of fiber strands is prone to catch dust and dirt from our environmental surroundings. Our sebaceous glands also release sebum, which is a natural oil released from our hair follicles, they often get clogged up with dust and dirt so they need to be removed too. Oh and the endless amounts of hair styling products that we use also need to be removed from our hair.
The "RIGHT" Technique
The right technique of shampooing the hair matters a lot, in order to reduce the hair breakage and entanglement.
Avoid taking a big blob of shampoo on top of head to rub it in, as it can lead to damage to the hair cuticles and cause your hair to frizz.
Just take out a dime-sized blob and lather it up between your strands
Then apply the shampoo by starting from the crown i.e. the top of the head moving downwards toward the ends of your hair
Massage your scalp with your fingertips in a circular motion gently – don't rub!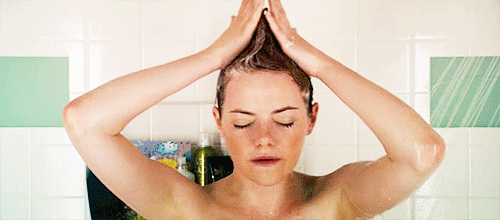 Conditioner BEFORE Shampoo!?
Trust us!
It's not opposite day!
And this trick ACTUALLY works…
Using an excessive amount of conditioning products can make it feel as though your hair is weighing you down. To avoid that weighed down feeling for your hair, you should use conditioner before you apply shampoo, rather than the other way around, as a fantastic way to provide your hair with more moisture and keep it nourished for longer.
The result?
Hair that is shiny, healthy and doesn't weigh you down.
Which Shampoo is best suited for me?
Now that you know the technique of washing your hair the "right" way. Finding the right kind of shampoo for your hair can be a tedious task, but you should love and embrace the fact that your shampoo is your best friend, and will fix all your hair care worries. And if you're not sure about which shampoo would be best suited for you… then CLICK HERE for our complete guide to shampoo!
Comment below and let us know which other topics YOU would like us to cover?
0