Our Pro-on-Board Kulsoom Haseeb was lucky enough to attend not one, but two masterclasses of two awesome MUA's! She's been trained by numerous MUA's which include the famous Samer Khouzami and Tammana Roashan! (We know you are jealous because so are we, hehe)
Kulsoom gave her friend an impressive makeover, she recreated Tammana Roashan's classic soft cut-crease makeup look, which you can view below! And, don't worry, she shared Khouzami and Tammana's most sought-after tips with us which we'll be sharing with you guys…
If you don't know who Samer Khouzami is…

Samer Khouzami, is a Lebanese based MUA, a master in contouring, the ultimate make-up guru, and beauty-god. He is also known to be the ultimate makeup trainer, with world-class masterclasses and churns out hundreds of leading MUAs every year.
He gathered his experience and merged it with international expertise not only to launch his very own set of makeup brushes by his own name Samer Khouzami but also expanded by turning his talent into a brand and a whole product line.
Samer Khouzami, is also an international phenomenon on social media, with OVER 2 million followers devoted from around the world.
1. Right techniques…
Kulsoom mentions how Khouzami emphasizes, how utilizing the right techniques is essential! If you use the right techniques, there's no way you won't have that flawless, blended makeup look! Kulsoom mentions how Khouzami is known for his face mapping technique, which includes highlighting the prime points of your face.
2. Elongated Eyes…
Khouzami's signature trick is to apply eyeshadow till the outer rim of your face. Because that way your eyes look very prominent and elongated. Kulsoom also mentions how he isn't a fan of putting tape on the corners of your eyes to get that chiseled, sharp look… Kulsoom believes you can create the same effect after applying eyeshadow by using a makeup wipe or concealer.
3. Only uses his own products 
Kulsoom also mentions how he ONLY uses his own products… and that's because he has a whole range of awesome products he can use! From primer to eyeliner to mascara… he even has his own line of brushes.
4. Sought after products…
However, the outsider products he did use are 'The Saharan Palette' by Juvia's Place which our Pro Kulsoom used in her tutorial as well!
Purchase it here!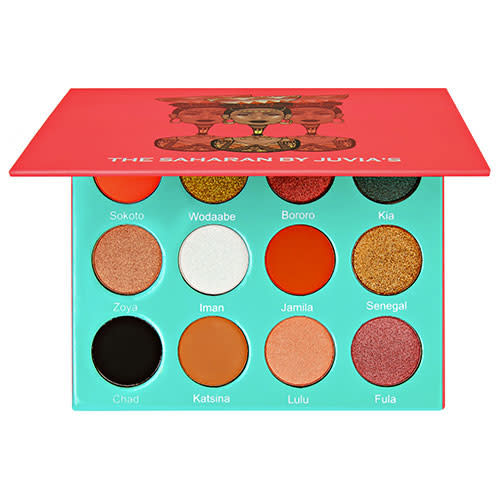 Another product he uses is 'Saleha Beauty's' highlighter in the shade 'Hollywood Gold'
If you don't know who Tammana Roashan is… 
Tammana Roashan is an Indian/Afghani MUA, she's an Instagram phenomenon known as 'Dress Your Face' with over 2.6 million followers!
She worked as a Business Manager for Lancome for 8 years and now she teaches online and holds mega masterclasses as well…
1. Set Your Base for eye makeup… 
Kulsoom mentions how Tammana emphasizes to set a base on your lid before eyeshadow application as it ensures that your eyeshadow lasts long!
2. Swoopy Brush technique… 
Kulsoom also shares her swoopy brush technique, which involves holding the eyeshadow brush at a certain angle and blending the eyes to create a shadow! You can view the tutorial of this technique in Kulsoom's tutorial below.
3. Sought after products…
Tammana's sought-after products which Kulsoom mentions are…
MAC's paint point in 'Soft Ocre', and there's an awesome dupe that Kulsoom mentions for it… Luscious Angel Eyes Primer!
Kulsoom also mentions how she was 1 of 400 lucky gals to get her hands on Tammana Roashan's Limited Edition 'New Years Glam Box' which included 'Tarte's Clay Play Face Shaping Palette'!
Pro-On-Board Tips…
1. Prep Your Skin 
Our pro-on-board emphasizes how you need to maintain an excellent morning and night-time skincare routine, for that flawless and smooth-looking skin. Along with exfoliating at least once a week!
2. Key to a slaying Makeup Routine 
Kulsoom mentions how the key to having slaying makeup, is simple… blending.
3. Use Primer
Kulsoom explains how the middle product in between your pores and the makeup is a primer, which sinks into your skin, therefore if you use the wrong kind of primer, it can cause further skin problems and issues.
Sought after products…
Kulsoom mentions how her favorite brushes are Morphe Brushes as they are economical and super-quality!
Here you can view Kulsoom's full Makeup tutorial here, where she attempts Tammana Roashan's Classic Soft Cut Crease makeup look. Kulsoom also mentions some more of her helpful, awesome, and pro-on-board tips, so make sure to view the whole tutorial!
If you loved this Pro-on-board as much as we did, then make sure to follow her on her socials…
Instagram = makeup101_by_kulsoom
Facebook  = Click here!
Comment below and let us know which other topics YOU would like us to cover!
0