Beauty is who you are from the outside and that can be enhanced through makeup, however if you're internally not feeling well then that can reflect your over all look, which is a huge downside. You're loose hair, or have unwanted hair growth all of your body, your skin feels scaly and you're feeling depressed all the time. It wasn't probably because you failed an exam, it could be your hormones messing with you, hence that unbearable abdominal cramp. There are these little signs that we ignore, so before you read on, take a moment and think if you could also be that 1 out of 5 women who suffer from Polycystic Ovarian Syndrome.

WHAT IS POLYCYSTIC OVARIAN SYNDROME (PCOS)
PCOS is a hormonal imbalance in women, due to which there are problems with  a woman's menses and may make it difficult for her to get bare a child. PCOS also may cause unwanted changed in the way we look, which can distressing. Therefore, it is essential to treat it before it can lead to any serious health conditions such as; diabetes or heart diseases.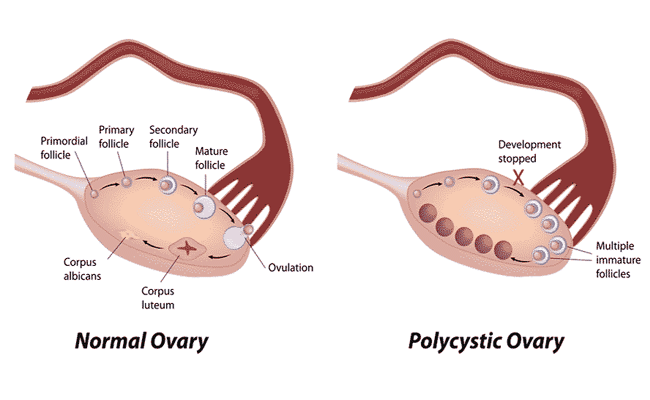 WHAT HAPPENS IN PCOS
PCOS grows many small cysts on a woman's ovaries, which is why it is called Polycystic Ovarian Syndrome. The cysts are not harmful, however they lead to severe hormonal imbalance.
CAUSES
The causes aren't stated yet, however it has to do with your family genetics. So, if a few of your family members has PCOS, then it is very likely that you will also have it.
SYMPTOMS
The symptoms can be mild, so either you may have some or all of them at once.
Acne (facial, body, back, chest, abdomen)
Hair loss
Excess hair (facial, body, back, chest, abdomen)
Weight gain
Irregular menses
Infertility
Depression

SKIN & HAIR CONCERNS IN WOMEN DUE TO PCOS 
Following are the major skin and hair concerns in women due to high levels of male hormones called Androgen.
Excess hair
Hair Loss
Acne
Dark Skin Patches
Skin Tags

TREATMENT
There are two types of skin and hair care treatments:
Cosmetic Treatment:
Creams or topical gels to reduce inflammation or block pores that create oil can treat acne.
Waxing, Threading and Plucking
Laser Hair Removal
Electrolysis
Medical Treatment:
Book an appointment with a Gynecologist for:
Reducing the amount of male hormone through hormonal contraception
Lifestyle changes; weight loss
Medicines to reduce insulin resistance
Others:
Take care of your diet and follow a nutrition plan
Increase your intake of vitamins for your skin and hair
Follow a regular workout plan
Avoid dairy for acne
A skin care routine is essential by using organic products

WHAT YOU SHOULD DO FOR YOUR HAIR AND SKIN
In some cases of PCOS, the problem may be a adverse, which is why you need to discuss with your medical practitioner and seek the best and quality treatment for your skin and hair, and moreover, your internal health to avoid the discomfort and life-long problems that come with Polycystic Ovarian Syndrome.
0