A makeup collection is incomplete without makeup brushes… makeup brushes are an essential part of every girl's makeup kit. Almost every girl carries makeup brushes in her makeup bag, but most of them don't know their proper use…
Beauty Hooked has the perfect guide to makeup brushes, so you can bookmark it and keep coming back!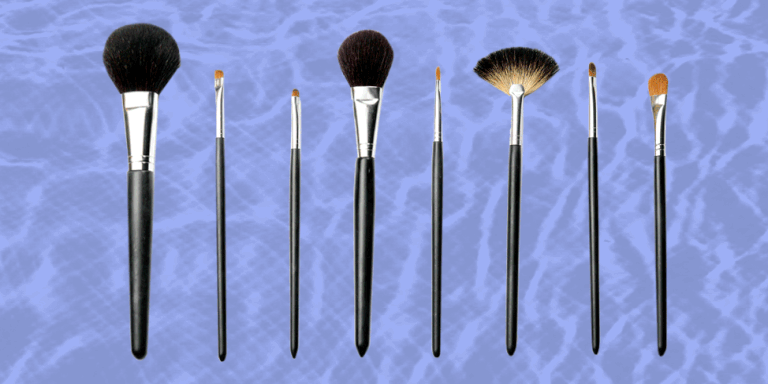 1. Foundation brush
A basic function of a Foundation brush is to make foundation application convenient. A good quality foundation brush will allow you to blend the foundation so that you can buff the product into the skin, to give the most natural look possible!
Purchase it here! 
2. Concealer Brush
Concealer brush, as the name suggests, is used for concealer application. The trick with this is to not blend the product into your skin. Instead, just pat the concealer on with the brush. 
Purchase it here! 
3. Stippling Brush
A stippling brush is used for foundation application and blending. In fact, nowadays this is a hot favorite for every makeup fanatic. It gives an airbrushed effect. The light fiber of the brush helps in achieving a flawless finish.
Purchase it here! 
4. Angled Blush Brush
An angled blush brush is used for precise application of a blush so that the blush looks natural on the cheeks. With this brush achieving a natural flushed look is very easy. In addition, this brush has soft bristles that help achieve a soft application.
Purchase it here! 
5. Powder Brush
The Primary function of a powder brush is to give you the perfect set of loose powder or a compact without giving you a cakey look.
Purchase it here! 
Angled Brush
An Angled brush has multiple uses. It can be used as a liner brush or to fill in your brows. Also, the sharp end of the angled brush helps to draw out a killer winged liner.
Purchase it here! 
6. Blush Brush
Unlike the angled blush brush, this one is round from the top. This is like a powder brush, but more rounded to pick up the pigments of the blush perfectly. The soft bristles are designed to allow blending so that there are no harsh lines.
Purchase it here! 
7. Contour Brush
Contouring is the only thing that cannot be done without a brush. And, if you manage to do it, you'd probably end up looking like a clay sculpture. Its stiff bristles are specially designed to help you target the areas that you want to contour and shape. This makeup brush would give you the sharpest contour and a perfect structure to your bones. That, we guarantee you!
Purchase it here! 
8. Highlight Fan Brush
The bristles in a fan brush are specifically designed for highlighters. It is lightly dusted on top of the cheekbones and other areas of the face that needs to be highlighted… The bristles are spread out so that the brush picks up a small amount of the product and gives a subtle highlight.
Purchase it here! 
9. Blending Brush
The key to the perfect makeup is blending, blending and blending. This is the only thing that can't be done with fingers. A good blending brush will help to soften out any harsh lines. So, whenever you think that you've blended enough, blend away a little more. Take our word, girls.
Purchase it here! 
10. Eyeshadow Brush
Eyeshadow brush can be used for powder or cream shadows. Take the product and apply it directly to your eyes.
Purchase it here! 
11. Bronzer Brush
A bronzer brush is rounded and distributes the product evenly. Thus, helps in achieving that natural, sun-kissed look. Moreover, this can be used to blend away contour lines.
Purchase it here! 
 12. Lip Brush
Lip brush is a must if you want that perfect pout. Its bristles provide the precise application for lipstick.
Purchase it here! 
13. Spoolie
Girls, did you know that there is a separate brush for your eyelashes. Moreover, this can also be used for eyebrows. So, before applying any pencil or other product on the brows brush them first. 
Purchase it here! 
Want our experts to help you with any other product or beauty information under the sun? Ask us in the comments below!