Aztec clay is that one product that is all you need to maintain a flawless hair, and skin. It is suitable for all skin types, and definitely worth a try. Khloe Kardashian swear by this one product to maintain her beauty.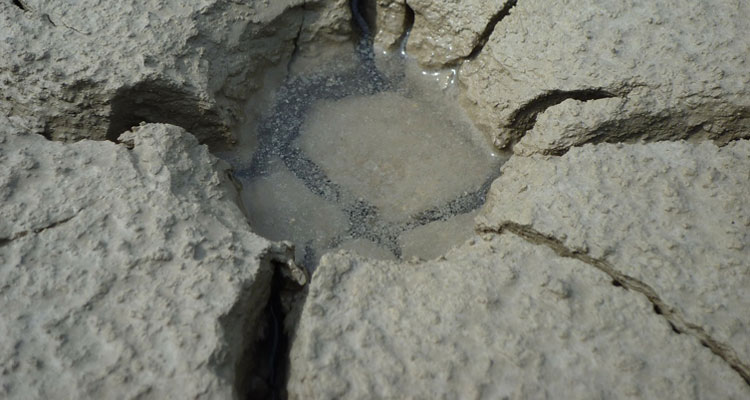 Here are some benefits of Aztec clay:
Removes Toxins
Unclogs and shrinks pores
Softens the skin
Has anti aging properties
Combats acne and blackheads
Suitable for all skin types
Blurs out scars
Helps to control the sebum production
It is non oily and non greasy
ultra-moisturized, super hydrated, soft, and frizz-free.
Used to treat and soothe cuts, wounds, bruises, muscle pulls, and carpel tunnel syndrome.
Effective for rashes, insect bites, eczema and psoriasis.
Stays fresh no matter how long you store it in powder form in the container because it is only fully activated once you add a liquid.
.
Aztec Clay Recipe For Face
Ingredients
3 tablespoons of Aztec Secret Indian healing clay.
3 tablespoons of apple cider vinegar.
1 plastic or glass bowl.
1 wooden or plastic mixing spoon.
Mix the Aztec clay and the apple cider vinegar together in the bowl. Use your spoon until you reach a chunky consistency, until all powder has been mixed in.
Don't over-mix or let it dry out.
You're now ready to apply it to your face.
Apply with your fingers.
Use a cosmetic sponge or cotton ball if you want.
Apply the face mask down your neckline if you have extra.
Let the clay mask sit for 20 to 30 minutes.
It's normal to feel a tingling sensation on your skin as it dries.
The clay mask will contract as your face absorbs the trace minerals.
Wash off with warm water and a soft washcloth.
Use this mask once a week.
Aztec Clay Mask for Face To Soothe The Skin
Ingredients and Method
Mix the Aztec clay and apple cider vinegar
Add three drops of lavender oil to the mixture
Mix well
Application Technique
Sit or lie down and relax.
Leave it on for the same time frame as a regular mask, about 20 to 30 minutes.
Rinse off with likewarm water.
Benefits of a Soothing Aztec Clay Mask
The lavender essential oil in the clay mask will not only help you to relax, but it can also help to counteract stress and a bad headache.
Aztec Clay Mask for Acne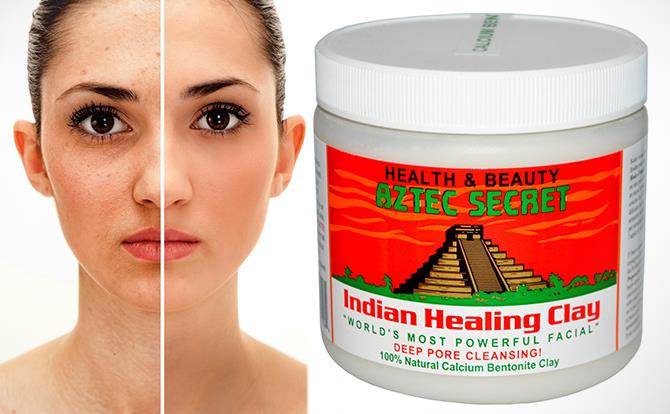 Ingredients and Recipe
Pour a few drops of tea tree oil into your Aztec clay and apple cider vinegar mixture.
Mix up until you reach a consistency that is easy to smooth on your face.
Ensure you leave no powder, as the bentonite clay is activated once it's mixed with liquid.
Leave your acne-fighting mask on your face for about 20-30 minutes.
Rinse off with warm water.
Benefits of an Aztec Clay Mask for Acne
Using an Aztec clay mask for acne will help your skin to unblock its sebaceous glands which leads to acne, disinfect the pores which will kill the acne-causing bacteria that loves sebum build-up, and help to dry out and heal up whiteheads, blackheads, pimples, and other types of blemishes.
Ingredients
1/2 cup Aztec clay.
1 tablespoon coconut oil.
1 tablespoon castor oil.
6 tablespoons of apple cider vinegar.
3 tablespoons of water.
Application Technique
Place the clay into your bowl first.
Add the oils next.
Add the apple cider vinegar, but before you add the water, let it foam up a bit.
Allow it to begin its reaction.
Finally, add the water.
You can use your hands and apply it to wet or dry hair.
Apply it from the roots to the ends of your hair.
Leave on the mask for 20-30 minutes.
It will be easier to rinse out your hair in the shower.
Use warm water and rinse thoroughly.
Do not leave any clay in your hair as it will dry up and look awful.
Once you think you have all the clay removed, use your regular conditioner.
Let your conditioner sit on your hair for about five minutes.
Rinse again.
To Shop Indian Healing Aztec Clay for Rs. 2,400/-(Click HERE to Shop)
"To get updates on our latest beauty news and releases, click on the bell icon above to get notified!

*Disclaimer: All articles published on Beauty Hooked are based on heavy and thorough research by our beauty consultants, makeup artist and experts. All products recommended have been tried and tested by us personally and only then recommended to you. All these products, at the prices presented, are as of the publication date of the article. Prices presented in the article may vary across retailers in Pakistan depending on the retailer's margin."
0