Your feet help you stand, move around and take you places, yet when it comes to personal hygiene, we neglect our feet the most. So, no matter what the climatic conditions are, you need to give your feet a little TLC. And with our Beauty Experts complete guide on foot care, we recommend a good hygiene routine, methods on how you can take care of your feet. We've also highlighted medical conditions that require clinical attention, and suggested products for maintaining foot health.
Daily Cleansing
It's essential to maintain a hygiene routine because our feet tend to get dirty, and sweat more than the other parts of the body. Since the majority of us shower in the morning, so we should have the habit of washing our feet at night with luke warm water. This will not only clean the feet and wash off sweat and bacteria, but it will also prevent your feet from smelling. Pat your feet dry and apply moisturizer or a body lotion.
Moisturize Your Feet Everyday
The skin on your feet as compared to your hands is more prone to dryness and cracking, therefore its necessary to moisturize your feet everyday.  You will notice a visible difference in the texture of the skin when you apply moisturizer at night and wake up with happy-looking and soft feet.
*Precaution: Don't over moisturize the space between your toes to avoid fungal infections.
Wear The Right Footwear For An Occasion
Wear shoes that are your size. The shoes you wear must be clean and slightly loose enough, considering the climate or seasons. e.g to keep your feet feel cool and light, wear sandals and open shoes in summer, and keep them warm in winter by wearing socks and boots.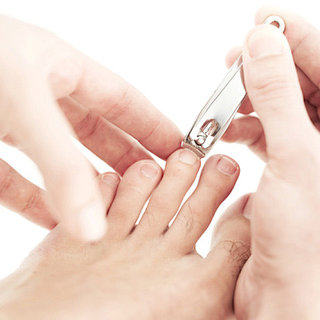 Trim Your Toe Nails
Your toe nails need trimming every 7-10 days to remain strong and healthy. Trim your nails in a way that does not lead to ingrown nail growth, which can be painful, so trim your toenails in a straight direction rather then curving the edges. Avoid trimming them too short to avoid any infections. And if you want a round shape, use a nail filer to curve the straight edges.
STEPS FOR A BASIC PEDICURE
File the nails with a metal filer to shape them
Apply polisher to lighten dark spots, and to brighten the hands
Leave the polisher on for 15 min
Remove the polisher using a wet towel
Dip the feet in hot water with two tablespoons of foot soak (product mentioned below) for 10 min to soften the cuticles
Apply cuticle oil on to the cuticles and leave it on for about 2 to 3 min
Push back the cuticles with a cuticle pusher
Remove the layer of dead skin around the cuticles to fine tune the nails
Cut off the cuticles using a cuticle cutter
Buff your nails to make them look smooth and shiny
Exfoliate the feet with a mechanical exfoliator to remove callus
Massage with a deep hydrating moisturizer for 10 min
Apply your favorite nail color
*Pro Tip: Give your feet a pedicure every 2 to 3 weeks to make them free from fungal problems, dead skin and cracked skin. 
PROBLEMS AND SOLUTIONS FOR YOUR FEET
Ingrown Toenails – Clip the toenail straight, lift gently the ingrown part and place a tiny cotton ball under it to keep away from growing in further. Use a fresh new cotton ball every night.
 Foot Fungus – Due to over moisturization, sweat or water in the space between your toes, fungus can grow, so keep these areas dry to avoid skin infections. If you find any fungal growth, consult a dermatologist to take a prescription for anti-fungal ointment.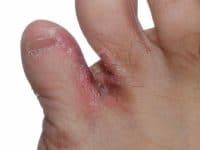 BEAUTY HOOKED APPROVED FOOT SOAK
Hollywood Style Rs.295/-
Pedicure Rs.735/-
Pedisation Rs.385/-
Dermashine Rs. 345/-
The Foot Factory Rs.245/-
BEAUTY HOOKED APPROVED FOOT SCRUB
Freeman Vanilla Jasmine Rs.295/-
Freeman Tea tree Rs. 295/-
Freeman Lime + Coconut Rs.295/-
Pedicure Rs.735/-
Hollywood Style Rs.345/-
Dermashine Rs.295/-
The Foot Factory Mint Rs.245/-
The Foot Factory Lavender Rs.245/-
Eccenti Cool Feet Rs.395/-
Newtons Rs. 345/-
BEAUTY HOOKED APPROVED FOOT CREAMS
Bare Foot Lavender Rs.295/-
Bare Foot Eucalyptus Rs.295/-
Eveline Rs. 375/-
Barefoot Cracked Heels Rs. 375/-
Barefoot Callus Soften Rs. 375/-
BEAUTY HOOKED APPROVED FOOT LOTIONS
Pedicure Rs.735/-
Pedisation Rs. 385/-
Barefoot Rs.295/-
Dermashine Rs.345/-
Hollywood style Rs.295/-
BEAUTY HOOKED APPROVED FOOT BALMS
Freeman peppermint Rs.295/-
Freeman Lemon Rs.295/-
BEAUTY HOOKED APPROVED FOOT DEODORANT 
Barefoot Rs.295/-
Eveline Rs.375/-
Just like the other parts of your body, your feet require your utmost attention as well, which is why you need to devise a weekly "foot care plan" for clean and healthy-looking feet by using the products recommended by our Beauty Experts. And if you want are looking for a detailed foot care plan, you may call us on +92 336 3232889 or book an appointment with our Beauty Consultant for a one-on-one session.
Do comment below and let us know your thoughts – if you've tried any of these products and what worked for you.
0