Whether you're a student or a newly wed bride, a house wife or a working women, you all went through the panic of chipped nail polish before an important meeting, dry skin or unwanted facial hair etc. You feel disappointed and disheartened because you didn't look your best, as a result, you end up having a low self-esteem. However it is in such moments when we realize the importance of taking care of ourselves.
The hectic lifestyle of an everyday women has made them think how much essential self-grooming is. And since you're hooked to Beauty Hooked now, we've orchestrated the perfect beauty routine for the entire yea just for you. Whether you have an urge for the secret to healthy & shiny hair or grapple with skin issues,  we are going to tell you the easiest yet effective way to work for your regular beauty regimen needs into your schedule. What you have to do is to follow our daily, weekly, fortnightly and monthly schedules to have that perfectly groomed face, body, and hair.
Let's start now!

BODY 

DAILY
BASIC CLEANING AND HYGIENE
Do you only dab a good amount of body moisturizer after taking a shower? Well, guess what? That's not enough. You need to shed the dead skin on your body for it regenerate, and Dry Brushing is the finest skin detox technique that can help you achieve the desired result, and thus, should become a part of your daily routine. So invest in a good quality, long-handled body brush preferably with cactus bristle because dry brushing not only removes dead skin cells, but also promotes blood circulation and lymphatic drainage. Always start your strokes from the legs and go up towards the heart, and when you are done, move on to your regular routine of shower and moisturizing.
WEEKLY
EXFOLIATION
If you want a clear and smooth skin then indulge in the art of exfoliation once a week. It is also very essential to exfoliate the ignored skin areas that you can't reach yourself every day.
FORTNIGHTLY
HAND AND FEET
To maintain your monthly manicure and pedicure, scrub and brush your hand and feet once in two weeks and remove your cuticles, followed with a moisturizer.
MONTHLY
MANICURE & PEDICURE
The major reason behind the aging of hands and feet is wrinkled skin, and untreated cuticle growth. Whether you tackle the nail cuticle growth between manicures and moisturize the hands every time after washing, you also need a proper manicure once a month.
Your feet call for more attention because the heel is more prone to wear and tear. It results in hard and rough calluses followed with chronic dryness. So, a six-week gap between two manicures is acceptable, but for peep toe-perfect feet, always keep fortnightly appointments for the pedicure!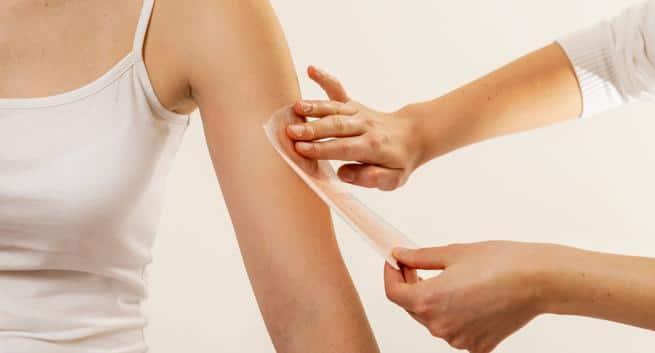 WAXING
Neat & cleans skin allows you to wear those trendy cuts to make you stand out in a crowd, and waxing is the best way to get rid of unwanted hair. Avoid using a razor or hair removal creams as they lead to hard hair growth and darken the skin.
BODY MASSAGE
A body massage is a perfect way to pamper your self. It not only relieves you from stress, but also the deep penetration of oil makes your skin more healthy.
BODY WRAP
Mostly body wrap is thought to be an unnecessary luxury, but regular wraps will polish your skin to a sheen. it also helps to lock moisture deep into the skin.
HAIR 
DAILY
BRUSHING
The main purpose of brushing should be to straighten untangled hair, because over-brushing can cause excess breakage. Brushing on wet hair is not recommended, however, you can use a wide-toothed brushed soaked a conditioner or serum to untangle wet hair without breakage.
BLOW DRY
When it comes to hair care, a big no-no is daily blow-drying because its a major cause of split-ends because of the frequent use of heat appliances.  Allow your hair to be air dry.  Always blow dry towel dried damp hair and not wet hair. Heat protection sprays and serums are recommended before heat appliances usage.
WEEKLY
HAIR MASK
The hair mask is most important to include in haircare routine. Whether you have colored or chemically treated hair or not, a hair mask provides deep and intense hydration to hair for life full hair. Also, hair mask solve many hair problems, like frizziness, oily, tame hair, bounce less hair etc
FORTNIGHTLY

HOT OIL TREATMENT
Take warm hair-oil in a bowl. Apply it to hair and scalp. Now, wrap a hot wet towel around the head. Leave it on for 20 minutes. proceed on with a regular hair wash.
MONTHLY
TRIMMING & ROOT TOUCH UPS
Trim the hair every 2 to 3 months to have healthy and split-end free hair.
The gap between hair color root touch-ups is recommended for about six to eight weeks.
FACE
DAILY
CLEANSING, TONING AND MOISTURIZING
CTM is the most important part of the daily skin care. Choose products according to the type of your skin. Only cleaning is not sufficient. A toner removes the leftover impurities from the face and after toning, moisturization is a must step to close the open pores, which otherwise may lead to breakouts.
SUNSCREEN
Sunscreen is a must have on your skin after CTM because it protects your skin from harmful rays from the sun. it is the biggest reason behind having  tanned, premature aging, pigmentation, freckles and other skin problems. so, protection is better than treatment.
NIGHT CARE

Night care is the most important step. it is like having me time at night. it includes makeup removal, cleansing, toning,  skin serum, moisturization and any spot treatment.
WEEKLY
EXFOLIATION & FACE MASKS
Exfoliation is necessary to remove the dry/dead skin cells. It is one of the most important aspects of your skincare routine for a face. It also helps to achieve glowing skin by increasing blood circulation. Exfoliation should not be done more than 2 times a week, as over scrubbing may cause skin more prone to environmental germs leading to skin problems.
Face masks are the perfect way to help with skincare concerns. The face mask helps to combat major skin concerns like deep hydration, excess oil removal and to improve skin texture. Face Masks should not be used more than 3 times a week
FORTNIGHTLY
HAIR REMOVAL
The most gentle and common hair removal method for the full face is threading.However, waxing also works fine for eyebrows, upper lip, and the forehead. But be careful about the sensitive areas of the face that should not be waxed. Waxing of sensitive areas like the upper part of the cheeks ( just under the eyes ) can lead to skin reactions like breakouts or dark spots,  leaving the pores open to the elements.
MONTHLY
FACIAL
If you want intensive deep cleansing, and also to cure some skin concerns like to lighten marks and to tighten up your skin, facials are key to all problems. But facials are not recommended more than once a month as it may irritate your skin or cause more problems to occur.
Also, the rhythm of regular facials serves as routine skin analysis by facialist about pros and cons of facial skin.
YEARLY
MEETING YOUR DERMATOLOGIST
Once in a year, whether you don't have any problem apparently, you should make a trip to a dermatologist for skin screening and analysis because prevention is better than treatment.
TOSS EXPIRED MAKEUP PRODUCTS
Decult your makeup according to its date of expiry.
BEAUTY HOOKED'S BEAUTY CALENDAR
Maintain your appointments by booking through beauty hooked to have all at the proper time and never get the headache of not getting an appointment at your desired time.
So that's it for our on Every Girls' Ultimate Beauty Routine! If there is anything else that you would like to know about mascaras comment below and let us know and we would be happy to guide you