The choices you make every day affect how your skin looks. So choose wisely! We went on the hunt to find an excellent product for Mature, Dry & Damaged skin and after testing out at least 30 products in the market that made similar claims, we finally found the one that actually works. Here is it , and here is why it can save you from dry, damaged skin and wrinkles.
Eminence Stone Crop Oxygenating Fizzofoliant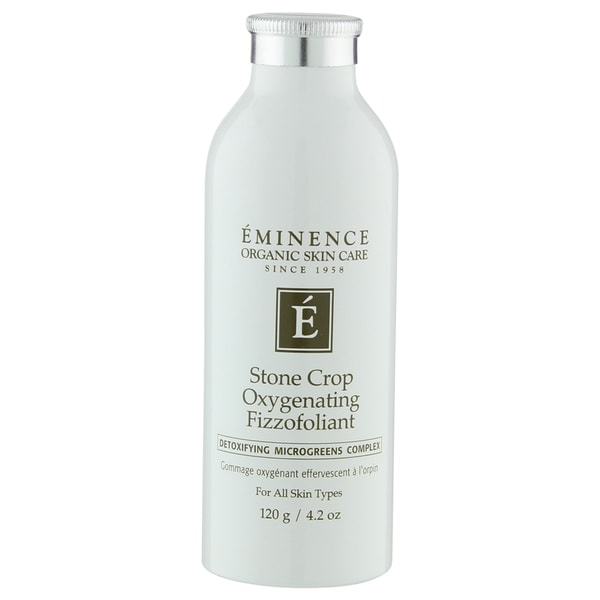 Eminence Stone Crop Oxygenating Fizzofoliant can help you achieve a youthful looking glow. The product removes impurities with its slight fizzing action on the skin and results in a  beautiful, brighter looking complexion.
Beauty Hooked Tested Benefits:
Skin is effectively cleansed and gently exfoliated
Skin appears plumped and refined
Complexion appears polished and smoothed
Skin is softened for easier extractions
Here is how you can use it:
Dispense a small amount of dry product to wet palm of hand
Add a few drops of water. Rub hands together to create a lather(foam)
Apply on the face using circular motions. Avoid the delicate area around the eye.
Massage in upward and outward motions.
Wash your face with lukewarm water.
Ingredients
Stone Crop:
Great for sensitive skin as it help to reduce redness.
Great for dry skin as it is hydrating and also helps to reduces  dry patches.
It brightens the skin over time and helps to reduce pigmentation and lighten the complexion.
Also assists in regeneration, firming stressed skin, toning the epidermis, moisturizing, helping reduce signs of aging.
Detoxifying Microgreens Complex:
This is a blend of Broccoli, Radish and Clover sprouts, and Detoxophane from Swiss cress sprouts
It helps to:
Protect the skin against the drying effects of environmental
Reduce the signs of aging
Brightens the skin making it look younger that before.
Rice:
It is a gentle scrub that buffs and smoothes skin texture. It is rich in antioxidants like vitamin C, vitamin-A, phenolic and flavonoid compounds which protect the skin against damage from the sun and nourish it well
Adzuki Powder:
This miracle powder exfoliates, rejuvenates and brightens skin's appearance in no time!
Quantity: 120g
Price: Rs.6,800
Our Final Verdict:
This product is one of a kind and is suitable from all skin types including sensitive skin as it helps to control the blotchy complexion. It was very effective in fighting the appearance of wrinkles and combating dry skin, leaving the skin smooth and supple. Out of 30 products tried and tested this was by far the most effected and Beauty Hooked Approved.
However, you must always do a patch test first before you start application to make sure you are not allergic or sensitive to any of its contents. For the patch test, try the product on the thin skin of your inner arm or the crook of the elbow. If you feel any sort of itching, redness,inflammation or swelling ;then discontinue use immediately.
0