Contouring has been around since the mid-1500s… Yes, sorry to break it to you but sadly, Kim Kardashian wasn't the first to introduce contouring. However, thanks to Kim Kardashian, contouring is more widespread. Let's all agree, it is the easy way out, to make your face look slimmer, sharpen, and define your facial features…
At Beauty Hooked, Our awesome pro on board Anaa Murtaza Zaidi covered ALL the tips & tricks relating to contouring… and, of course, we're sharing them with you, our awesome Beauty Hooked family!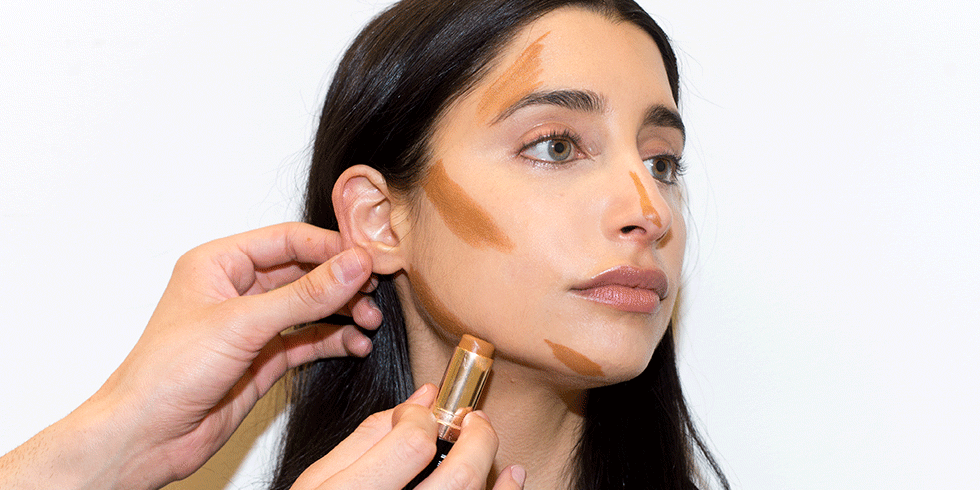 Determine Your Face Shape 
Firstly, the foremost important step is, you need to determine your face shape! So your face successfully looks slimmer and more defined.
Round: Cheekbones and face length have a similar measurement. They are larger than forehead and jawline, which also have a similar measurement. The angle of the jaw is soft.
Square: All measurements are fairly similar. The angle of the jaw is sharp.
Oblong: Face length is largest. Forehead, cheekbones, and jawline are similar in size.
Diamond: Face length is largest. Then, in descending order: cheekbones, forehead, and smallest is jawline. The chin is pointed.
Triangular: Large jawline, smaller cheekbones, and smallest forehead. The face can be any length.
Oval: Face length is larger than the width of the cheekbones, and forehead is larger than the jawline. The angle of the jaw is rounded.
How to Contour
Step 1: Before you begin contouring, apply your foundation beforehand to even out your skin tone.
Step 2: Bake your undereye area!
Step 3: Map your face with your cream or stick contour
Step 4: Blend, Blend, Blend!
Anaa's Recommended & Beauty Hooked Approved Contouring Products:
Benefit's Hoola Bronzer
Dior's Contouring Stick
Nars Concealer
Mac Mineralized Skin Finish
Bobbi Brown
Laura Mercier Translucent Powder
Mac Prep & Prime Setting Spray
Click here for our full guide to contouring products!
Contouring Tips & Tricks 
Use a product that isn't too thick, as it will be easier to blend.
Our pro on board Anaa recommends using a powder based product rather than a cream based product for daily contouring
Using a single contouring product will give a better finish rather than layering up several different products.
One contouring technique doesn't suit all face shapes and sizes, everyone has a different technique that suits them.
The most important trick to a flawless contour is blending!
Find the products that work for you and your skin type, it doesn't necessarily have to be high-end, and this way, no doubt, you'll have a flawless contour.
Click below to watch our pro on board Anaa's awesome tutorial on how to contour like a pro! She covers everything that we've mentioned in this article and she displays it all in tutorial format, so you'll know exactly how to contour like a pro. Also, make sure to follow this awesome pro on board on her Instagram (@studioamakeuplounge)
Comment below and let us know which other topics YOU would like us to cover!
0