Every girl or bride-to-be dreams of looking like a vision right out of a fairy tale on her wedding day, because it's her big day after all. The wedding dress, her jewelry, salon appointment and hair styling has to be on point because her friends will be talking about it over tea, reminiscing the fond memories of their best friend's wedding and how beautifully the "laal dupatta" was draped on her gorgeous hairstyle. Yes, besides makeup and skin care, we dream of the perfect hairdo according to our face shape. You don't want a flat look or wear a big bun because of the texture of your hair, so a bride has to follow and maintain a regular hair care routine in her pre-bridal services to take appropriate care of her locks to guarantee that her crowning glory is getting these treatments for the biggest day in her life!
YOUR HAIR CARE TIMELINE
Once a Month
Treat your hair with a deep conditioning treatment which includes spa hot oil, spa protein treatments and spa deep hydration hair masks, because they will help mend the ends of the hair as well as nourish your strands while giving them a silky smooth texture.
Once a Week
Once a week, treat your hair with a DIY hot oil treatment and homemade deep conditioning hair mask. Use an anti residual shampoo once a week to remove all the residue leftover from your regular shampoo, conditioner and hair styling products.
Once a Day
Maintain basic hair hygiene. Apply hair nourishing serums to combat any problems associated with your hair texture like tangled hair, frizzy hair, brittle hair, or to avoid problems like split ends. Remember to use a serum that will tackle your specific hair problem.
TO-DO AT LEAST ONCE
Hair Trim
Get your hair trim at least 2 weeks before the big day. If you want to experinece a new hair cut, give it a try at least 3 months before so that it doesn't look like a new cut and you hair can grow back in the desired shape and style.
Hair Texture Treatment
Similarly, if you want to change the texture of your hair, get it 6 to 4 weeks b the the big day.
Hair Dye
If you want to change the color of your hair, you need a proper consultation with your hair colorist who can guide you about your hair color according to your skin tone, eye color and shades of your wedding outfits. Always get your hair dyed at least a month before the big day and get root touch-ups before a week, if needed.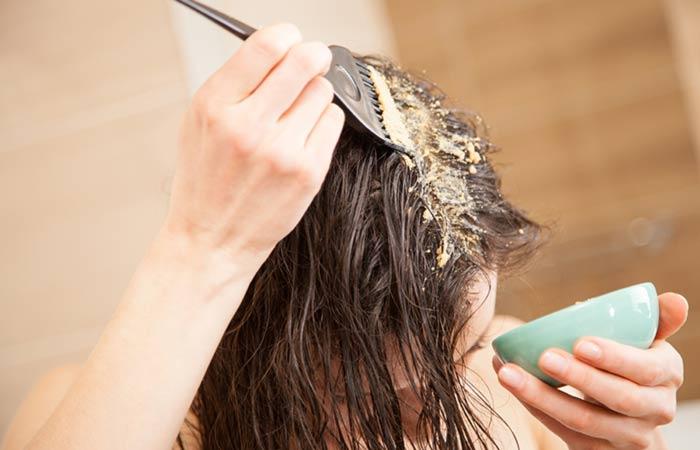 HAIR MASKS TO COMBAT HAIR PROBLEMS
Homemade hair masks are applied on hair section by section once a week.
Method of  Application
Generally, there is one method of application of hair mask for all masks mentioned here.
Mix all the ingredients in a bowl
Massage scalp in circular motion and don't rub the roots
Apply on hair section by section from roots to tips
Take a towel, soak in hot water, squeezed and wrap around the head for 20 min.
Take off the towel and leave the mask further for 20 min
Now, 1st rinse with lukewarm water to remove the mask from hair
Do regular shampoo and conditioner with lukewarm water
Give final rinse with cold water to close the follicle
Dry the hair with cotton T-shirt, apply serum, let them air dry and style as desired
*The method is used to have hot oil treatment at home, in which you just warm your favorite oil and rest of the procedure remains same
INGREDIENTS TO USE
For Dry and Dehydrated Hair
4 Tbsp Honey
6 Tbsp Olive Oil
For Brittle Hair
2 Tbsp Honey
1/2 Cup Milk
For Split Ends
2 Tbsp Honey
1 Tbsp Almond Oil
2 Tbsp Apple cider vinegar
For Frizz Fixing
2 Tbsp Honey
1/2 Tsp Almond Oil
1/2 Banana
For Oily Hair
1/2 Cup Yogurt
1 Tsp Lemon Juice
1/4 Cup Oats
For Deep Hydration
1/4 Cup Coconut Oil
1 Tbsp Olive Oil
1 Tbsp Mayonnaise
For Itchy Scalp And Dandruff
1/2 Tsp Baking Soda
1 Tbsp Coconut Oil
1 Tbsp Honey
For Protein Treatment At Home
2 Eggs
6 Tbsp Mayonesse
4 Tbsp Honey
2 Tsp Olive Oil
HAIR CARE TIPS & GUIDELINES FOR BRIDES-TO-BE
Know Your hair
It is important to know the type of your hair because the products and treatments you need depend on the type of hair you have
Clean Hair Look Happy
Hair hygiene is very important because a clean scalp is less prone to infections and other problems. You can choose to follow a hair cleaning regimen according to type of your hair as well as your lifestyle routine (how much you're exposed to pollution and the sun)
Eliminate  Chemicals & Strain
We know that you love to style your hair with styling products and styling tools but give your hair a baby care month before the wedding date. Use sulfate-free shampoo, protect your hair from environmental factors and give a break from hot styling tools.
Comb In Right Away 
Never comb wet hair and always use a detangling serum before combing. Ensure to use a wide tooth brush to detangle the hair
Go natural
Natural remedies are great to revamp your hair and give them a life because they are chemical free and have all natural raw ingredients that have no harm to use with unless you are being allergic to anything. Use hair masks according to need of your hair as mentioned above.
Food For The Hair
As you are a bride-to-be, what you eat will affect your hair as well. Having a protein and vitamin-rich diet such as eggs, yogurt, milk, lentils, oats, fruits, and veggies will not only help in weight loss, but will also give you strong and healthy hair.
We love the fact that you're getting married and you deserve to be happy and glowing. So if you're a bride-to-be and are eagerly looking forward to your big day and are looking for a customised hair care plan, give us a call on +92 336 3232889 or book an appointment with our Beauty Consultants for a one-on-one session here Beauty Consultancy
0