Beauty Hooked Guide to Highlighters for Your Skin Type!
No makeup look is complete without that blinding glow! Highlighters not on give your makeup a glowy effect; but they also draw attention away from your undesirable features. Highlighters come in a variety of types so it is best to use a highlighter that is meant for your skin type or skin conditions.
Powder Highlighters
Best for: All skin types, especially oily skin
Powder highlighters are suitable for all skin types, provided each skin type has been prepped accordingly. Make sure you use a moisturizer before applying foundation, or a powder highlighter tends to cling to the dry areas or patches.
Makeup Revolution Radiant Lights Exhale for Rs. 1,050/-(Click HERE to Shop)
Makeup Revolution Ingot Highlighter for Rs. 900/-(Click HERE to Shop)
Huda Beauty 3D Highlighter Palette Golden Sand Edition for Rs. 10,695/-(Click HERE to Shop)
Liquid Highlighters
Best for: All skin types, especially Dry Skin
 Liquid highlighter drops have a variety of uses:
Use it alone as a liquid highlighter. Simply apply to the high points of the face and blend with a synthetic brush or sponge for dimension and glow.
Mix into your favorite foundation for a more dewy finish.
Mix into your body lotion and creams for a gorgeous all over glow
Use alone with your everyday skincare for a natural glow from within on even bare skin days.
Makeup Revolution Liquid Highlighter  for Rs. 1,450/-(Click HERE to Shop)
Baked and Stick Highlighters
Best for:For all skin types
Baked highlighters give a radiant glow with a sheer wash of shimmering color. They are mostly infused with essential vitamins and minerals such as Vitamin E , jojoba, rose hip, sunflower, apricot, and grape oils to nourish the skin. These highlighters can be applied wet for a vibrant effect or dry for sheer pigmentation.
J Cat You Glow Girl Baked Highlighter for Rs. 1,500/- (Click HERE to Shop)
Cream Highlighters
Best for: Dry and Combination Skin Types
Cream highlighters come with micro-fine pearls that boost glow, resulting in a strobe effect that makes the skin appear radiant.
Maybelline Face Studio Strobing Stick Illuminating Highlighter for Rs. 1,399/-(Click HERE to Shop)
How to Apply a Highlighter?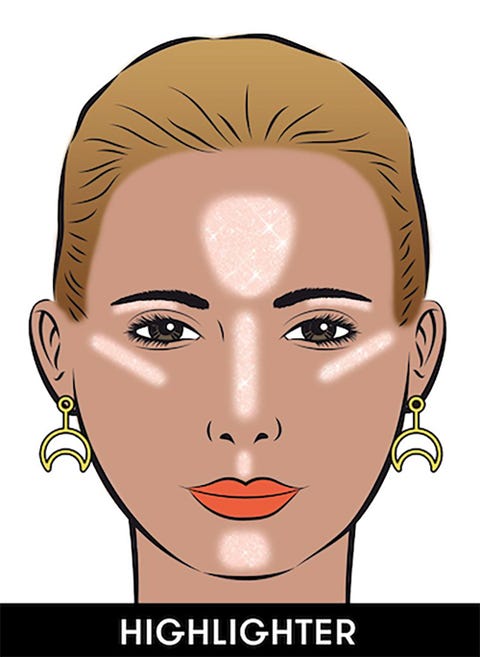 Step 1. To enhance cheeks – highlight top of cheekbones.

Step 2. To accentuate features – spotlight center of face.

Step 3. To brighten eye area – spotlight brow bone and inner corner of the eyes

Step 4. To enhance your pout-highlight the cupid's bow of the lips.
Step 5. To enhance your body-highlight the shoulders and the collar bone.
Apply Highlighter According to Skin Tone
Fair Skin tone:Apply pink or white toned highlighter.
Medium Skin tone:Apply a champagne or light gold toned highlighter.
Olive/Dark Skin tone:Apply a dark golden toned highlighter.
Now no more highlighter fails! Let us know your thoughts in the comments.
"To get updates on our latest beauty news and releases, click on the bell icon above to get notified!

*Disclaimer: All articles published on Beauty Hooked are based on heavy and thorough research by our beauty consultants, makeup artist and experts.  All products recommended have been tried and tested by us personally and only then recommended to you. All these products, at the prices presented, are as of the publication date of the article. Prices presented in the article may vary across retailers in Pakistan depending on the retailer's margin."