Struggle, Struggle and Struggle, it is key to success, and the struggle in life becomes double for people with acne. A struggle with having an oily skin, clogged pores, whiteheads, blackheads, enlarged pores, acne scars, acne marks, pigmentation… the list goes on and on! You carry on with your struggle for goals in life, but be sure take care of your skin with products that are exclusively for your acne-prone skin. So stay hooked!
WHAT IS ACNE
Acne is a skin condition which affects the oil glands in our skin. Our skin has minute holes known as pores, which are connected to our oil glands under the skin, and these oil glands produce sebum. The pores are connected to the glands through a canal also known as follicles. So, the oil glands carry dead skin cells inside these follicle to the surface of the skin which results in Acne.

TYPES OF ACNE
NON-INFLAMATORY ACNE
(Doesn't cause swelling )
Whiteheads – form due to the clogging of the pores by sebum and dead skin cells, but the pores are blocked and looks like a small bump.
Blackheads – occur due to the clogging of the pores by sebum and dead skin cells. So, when a pore is clogged, the top of the pore remains open, despite the rest of it being clogged. This results blackheads.
INFLAMATORY ACNE
(Prone to swelling)
Papule – hard clogged pores formed due to the breakdown of pores due to severe inflammation and skin becomes pink without any pus.
Pastule –  red bumps with yellow or whitehead top formed due to the breakdown of wall of pores and filled with pus
Nodule –  large clogged swollen pores growing deep in the skin  causing irritation
Cystic –  clogged pores with sebum, bacteria and dead skin cells occurring deep within skin (more deeper then nodules)

TYPES OF ACNE SCARS
Ice Pick – very narrow deep scars that go into the dermis giving the look of pierced skin by any sharp tool like an ice pick
Box Car– round or oval scars with vertical steeps giving skin pitted appearance as they are wider than ice picks and boxcars.
Rolling– wave-like pulses on skin, giving a rolling effect
Keloid–  a raised mass of tissue, which is firm in nature
Post-inflammatory Hyperpigmentation – increased levels of the pigment melanin in the skin
ACNE VERSUS ROSACEA 
Rosacea is yet an other skin condtition which is caused due to hypersensitivity with symptoms similar to acne in appearance. But a rosacea infected skin is free of blocked pores and is not as greasy as acne skin.
FACTORS CAUSING ACNE
There are four key factors that contribute to the formation of acne:
Seborrhea – due to overproduction of sebum by sebaceous glands trigger by hormones, environmental temperature, genetics, and medications.
Hyperkeratosis – thickening of an outer layer of skin due to the shedding of dead cells that clog the pores.
*Interesting Fact: If the skin produces an excess amount of sebum and on same time dead skin cells also start clogging up the pores, the two factors contribute to forming a soft plug in the hair follicle. If it leads to close comedone it causes whiteheads, otherwise open comedone lead to blackhead.
Microbial colonization – Bacteria build colonies by plugging the follicles, resulting in papules, cysts, and nodules.
Inflammation – due to burst of wall of follicle resulting in release of bacteria and fatty acids deep inside the adjacent tissues
Genes – thanks to Mom Dad for acne skin genetic code
Medication – such as steroids, or taken during pregnancy
THE CONTRIBUTING FACTORS OF ACNE
Sometimes, things do not directly cause acne, instead they enhance the symptoms of acne.
A diet rich in carbohydrates  (sugar and white flour)
Excessive dairy products  consumption
Smoking
Pores clog up make-up
Comedogenic  products for skin
TREATMENTS RECOMMENDED BY DERMATOLOGISTS
Laser Resurfacing Laser
Chemical Peeling
Microdermabrasion
Dermaroller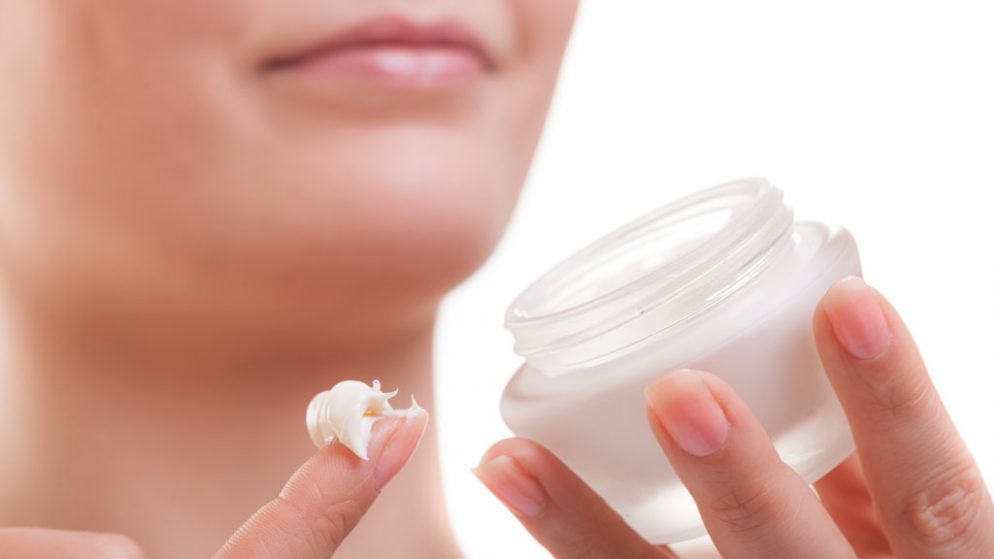 YOUR SKIN CARE ROUTINE
The essential routine i.e daily routine for oily skin step by step is as follows.
MORNING
Cleanser
Toner
Moisturizer
Sunscreen
EVENING
Cleanser
Toner
Moisturizer
Eye Cream
ADVANCED ROUTINE
The layering of skin products depends on the concerns of your skin like aging, large pores, clogged pores, breakouts, redness. It is either preventive routine or treatment routine or blends of both. But the key is to layer the product in the right order with the right product for your skin.
MORNING
Cleanser (Loreal Clay Purifying Gel)
Face Wash (Clearasil Rapid Action Daily Face Wash)
Toner (Nivea Mattifying Toner)
Exfoliant (Garnier Pure Active Anti Excess Oil)
Mask ( Freeman Facial Clay Mask Avocado & Oatmeal)
Serum (as per skin need e,g anti aging, whitening)
Moisturizer (Neutrogena Oil Free Moisturizer)
Eye Cream (Loreal Revitalift Eye Cream)
Optional: Targeted solution (acne, pimples, blemishes etc)
Sunscreen (Spectraban by Stiefel)
EVENING
Cleanser
Toner
Exfoliant
Serum
Moisturizer
Optional: Targeted solution, as per need, apply after your moisturizer or eye cream

RECOMMENDED MAKEUP FOR ACNE PRONE  SKIN
Primer: Silicone based primer (Maybelline baby skin)
Concealer: Liquid or stick concealer (Maybelline age rewind, Rimmel Hide the blemish)
Foundation: Matte Foundation (Maybelline Matte + Poreless), Stick Foundation (Kryolan TV Stick) Mousse Foundation (Maybelline Dream Mousse)
Blush on: Powder(Massarat Misbah Blusher), Stick (Maybelline Master Glaze), Loose Powder(NYX Grinding Blush), Mousse (Maybelline Dream Mousse Blush)
Contour: Powder Contours (Maybelline Master Sculpt)
Highlighter: Powder Highlighter (Becca, e.l.f ), Stick Highlighter (Benefit WhatsApp) Loose Powder (Luscious Loose Sparkle)
Pro Tip: Always keep blotting paper with you. Tissue take off the makeup and leaves lints on the face. Blotting papers absorb oil and sweat without taking off your makeup
Comment below and let us know if you have further queries about acne prone skin. let our expertise to guide you directly.
*If you're not sure about the type of your skin and products suitable for you, no need to worry when you are hooked to Beauty Hooked. Book an appointment with Beauty Hooked Beauty Experts for 1:1 consultation and enlist the product perfect for you according to your type of skin.