Summer is all about being trendy, playful and outgoing, it's about being bold and making statements with your makeup or hair. And, there are certain hair colors that are heavily trending in the summer, all the models and celebrities seem to be rocking them! Why not join the gang…?
1. The Peanut Butter & Jelly Hair
Hair color look inspired by peanut butter is created on dark brown chocolate based hair with light brown peanut butter toned thick highlights to blend in the brown base. To add more to it you can also add dark funky shades to it like dark purple and dark blue.
2. Rose Gold Hair
Hair color that is created with light pink shades with pale pink undertones. It is a faded pink or rose gold effect given to the hair for a funkier look to go with spring and summer. It is an overall hair look created with a single shade of the dye and cannot be created at home without a professional's supervision.
3. Amethyst Hair
A complete sassy look which is basically very unique and classy. This hair look is achieved with pale white or light grey hair and the specialty is that the roots are the only part which has to be dyed in a dark purple shade. The rest of the hair has to be white or grey to blend in with the roots.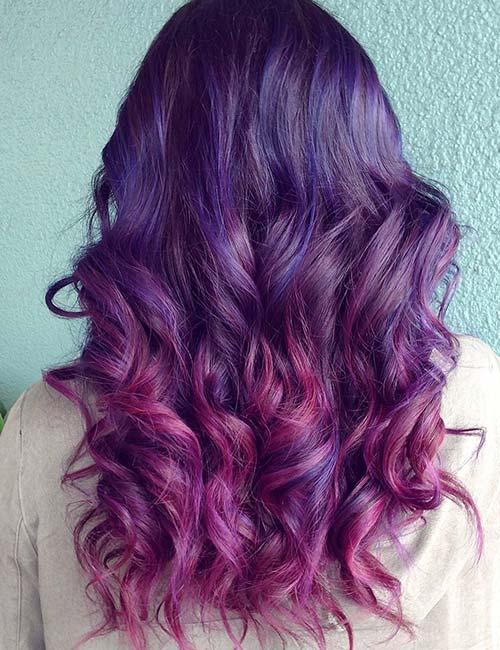 4. Mermaid Hair
A hair color completely inspired by the mermaids. Given the hair a complete transformation with blue and purple hues. The hair strands and dyed in chunks just like the highlights but with cooler purple and cooler blue tones to easily blend it and give it a mermaid look.
5. Blonde Balayage
A blonde ash toned base is created to keep the head looking cool toned to go with the entire look, then the balayage is done in the lower ends with one shade darker to complete the look according to the trend. You can get the look with any other shades as long as the base is one shade lighter and the balayage is one shade darker.
6. Dark Chocolate Hair
This is a very sophisticated and classy look which has nothing technical in it. It is a single shade look which is completed by a dark chocolate hair dye with no other shades in this look. This can be easily done at home with a regular hair dye and requires no professional.
7. Mocha Latte Hair
This is a light chocolate colored gorgeous look with a very light cool-toned chocolate brown shade that can be applied to hair all over. A gold shade can also be blended in the strands to go with the look and make it look more gorgeous.
Want our experts to help you with any other product or beauty trends under the sun? Ask us in the comments below!
0