In this crazy heat and unbearable weather, nobody has the time or energy to make those exemplary looking hairstyles that you come across Instagram every single time… Especially when one's running late for work, a party, or anywhere else for that matter! Honestly, let's just get real and accept the fact that it takes a lot to pin up those bunch of gorgeous strands.
But you don't need to worry too much! Because we have got you covered regarding this! We've got some quick fix, hairstyles that you can attempt and it shouldn't take you longer than 15 minutes…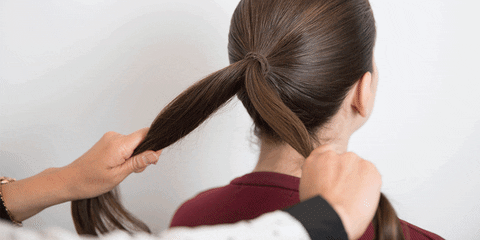 1. High and Tangled ponytail
Not everyone is a fan of keeping their hair open especially when it's a sweaty and humid weather. If you are having a bad hair day just plan to have your hair up in a stylish high ponytail!
How?
Just wiggle your fingers to give your hair a little bit of instant volume by holding up all the strands to make a high ponytail.
What you'll need:
Soft stretchable hair elastic band.
2. Easy Low Ponytail
Perfectly, well-brushed hair always looks sophisticated and elegant if you lock them up nicely in a soft low ponytail. It gives a neat look and compliments everyone.
How?
It'll just take out 2 minutes for you to straighten the ends to give it a perfect classy look and finish it with a little bit of hairspray to settle down the baby hairs that are sticking out.
What you'll need:
A slim hair comb
Bobby pins
Stretchable hair elastic band
Hair straighten
Hairspray
3. The Messy Bun 
The most famous hairstyle of all time which requires minimal effort, this is the most famous go to hairstyles for all the busy ladies who are legitimately lazy to make hairstyles.
How?
Just pull your hair up in the air, twist them all around till the end until it becomes a huge twisted roll and then swing it around your hand to make a bun out of it.
What you'll need:
Stretchable hair elastic band
4. Front Twisties
Nobody has the patience to pull out the hair styling tools and make hairdos that won't even last long in this humidity.
How?
To give yourself a princess look simply take small sections of your hair from the front and softly twist them backwards or make tiny braids and lock them with bobby pins. Do this on both the side after sectioning out the margin in-between equally. You can be a little extra and add fancy hair pins with the bobby pins to make it look prettier after setting your hair with a hair spray.
What you'll need:
Bobby pins
Hair spray
Fancy hair pins
5. Super Sultry Beach Waves   
Late night showers can make your hair fuzzy especially when you sleep right after, so why not make the most out of it?
How?
All you have to do is make a tight braid as soon as you shower and leave it overnight. The next morning you will get super curly wavy hair on the go without even making any effort. For additional changes, you can make front braids or twisties.
What you'll need:
Stretchable hair elastic band
Want our experts to help you with any other product or beauty information under the sun? Ask us in the comments below!
0