A product that makes your makeup last long till the end of any event is an absolute miracle that you should know about, and is that one product that should defiitely have room for your makeup vanity. Are you wondering that we've used primers that also help to keep our makeup in its place, then why should we add an extra product for long lasting makeup? A Makeup Setting Spray is like a topcoat to the products that are layered above the prime skin, mostly on the coloured products like blush on, contour, bronzer, highlighter as they are not in direct touch with the skin. So Beauty Hooked's Beauty Experts will guide you on how to use Makeup Setting Sprays and which one's should you use according to your skin type.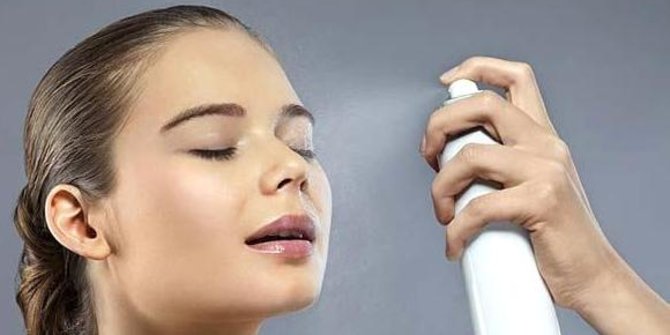 WHO IS IT FOR



Makeup setting spray is suitable for all skin types. But it is advisable to check the label if the skin type is mentioned on the product.
WHY SHOULD YOU USE IT

Makeup setting sprays tend to keep the makeup at its place, stops the oxidation of the makeup so that it doesn't change its colour, some have additional properties according to the type of skin e.g soothing agents in sprays for sensitive skin, hydrating agents for dry and mature skin.
APPLICATION
After completing your makeup, hold the spray bottle at 8 to 10-inch distance and spray on the face in X and Plus motion to cover the whole face. Let the Spray air dry.
SPRAY AT EVERY STEP IS NOT RECOMMENDED
We always love to apply makeup setting spray. feeling that mist on the face is really sensational. But it does not mean to apply makeup setting spray at every step as it may cause extra drying of the face resulting in the patchy /cakey makeup look. So, only apply makeup setting spray when you are done.
MAKEUP SETTING SPRAY HACKS
Intensifying Eye Shadow 
Spray the eye brush with setting spray and then apply on eyelid. it will increase the pigmentation as well as keep it at its place.
Fixing A Sad Cat Eye
Spray the angled eye brush with setting spray and sharpen or clear the winged liner to fix it.
Amp up Your Highlight
Highlighter can be intensified by spraying setting spray right before the highlighter application to amp it up. Let it air dry.
BEAUTY HOOKED APPROVED MAKEUP FIXING SPRAYS FOR ALL SKIN TYPES
Urban Decay ALL NIGHTER Long-Lasting Makeup Setting Spray Rs. 4,995/-
L.A Girl Pro Setting Spray Rs. 1,595/-
Artdeco 3 In 1 Make-Up Fixing Spray Rs. 1,990/-
Golden Rose Makeup Fixing Spray Rs. 1,395/-
Flormar Makeup Fix Spray Rs. 775/-
BEAUTY HOOKED APPROVED MAKEUP FIXING SPRAYS FOR ACNE-PRONE SKIN
Vipera Cos Medica Makeup Setting Spray Rs. 2,890/-
BEAUTY HOOKED APPROVED MAKEUP FIXING SPRAYS FOR OILY SKIN
Urban Decay De-Slick White Spray Rs.4,795/-
Urban Decay De-Slick Black Spray Rs. 5,100/-
BEAUTY HOOKED APPROVED MAKEUP FIXING SPRAYS FOR DRY SKIN
Mac Fix Plus Rs. 4,495/-
Well that's it for our Makeup Dictionary on Types of Setting Sprays! If there is anything else that you would like to know about mascaras comment below and let us know and we would be happy to guide you.
*Disclaimer: All articles published on Beauty Hooked are based on heavy and thorough research by our beauty consultants, makeup artist, and experts.  All products recommended have been tried and tested by us personally and only then recommended to you. All these products at the prices presented areas available at Al-Fatah Stores nationwide on the date of article publication and have been approved by us for quality purchase at Al Fatah stores. Prices presented in the article may vary across Pakistan depending on retailers margin.
0